Gainsborough Trinity's new signing holds misspelled scarf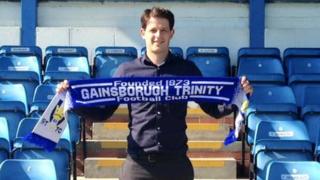 A non-league football club is investigating how its latest signing was unveiled holding a scarf with the club's name misspelled.
Gainsborough Trinity's new striker Marc Newsham was photographed holding a scarf with the Lincolnshire town spelled "Gainsborugh"
Club chairman Richard Kane only realised the error after the image was sent to the media.
He said he was thinking of selling the batch of scarves as a limited edition.
Tweeting about the typo, he said: "Really pleased with all the excitement that the spelling mistake on the scarf has made - loads of pr from radio, newspapers etc."
Trinity fans posted responses to the spelling error on the club's forum. One read: "There's no such thing as bad publicity."
However, another supporter said the media coverage was damaging for the club.
Boston fan Adam Shergold tweeted: "Good start for Marc Newsham at Gainsborough - they give him a scarf with club name spelt wrong."
The error comes a month after Wembley officials apologised to Middlesbrough fans for misspelling their team's name on tickets for the Championship play-off final.
Last week, Gainsborough Trinity made the news when reality TV star Jake Quickenden quashed rumours he was about to sign for the club.
The chairman had said a contract was possible if he impressed them at a pre-season trial.
---
Gainsborough Trinity - A potted history
Gainsborough Trinity FC was formed in 1873 as Trinity Recreationists, set up by the vicar of the Holy Trinity Church for young parishioners
Their first match was against Newton Heath, who later reformed as Manchester United
Trinity are one of only a handful of teams who have never been promoted or relegated - they have only ever moved league by order of a committee.
The record attendance for a football match at the club's ground was in the 1940s when 9,760 watched a game against near neighbours Scunthorpe United
---