Lincoln celebrates Magna Carta anniversary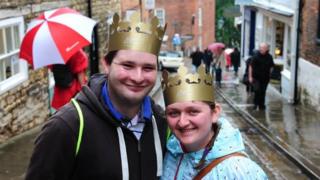 Hundreds of people have been taking part in celebrations in Lincoln marking the 800th anniversary of Magna Carta.
The city holds one of four remaining copies of the charter which was signed by King John at Runnymede in 1215.
A trail of 25 decorative sculptures has been installed - each representing the barons who were present at Magna Carta's sealing.
Lincoln Castle has undergone a £22m renovation ready for the anniversary.
The castle, which houses a surviving copy of Magna Carta, almost tripled visitor numbers compared to the previous year, after it reopened in April.
Andrew Kelly, the Mayor of Lincoln, said Magna Carta's link to the city was good for the future.
He said: "By having something like the baron trail, the Magna Carta, the refurbishment of the castle and the work that's going to be going on at the cathedral, it will put us there with York - where we should be."
Virgin Trains East Coast put on an extra direct London to Lincoln train to cope with demand.
Throughout Saturday, BBC Radio Lincolnshire presented stories relating to King John and the impact of the charter.
All six were performed by storytellers, including rap artist Scorzayzee, at stations in Steep Hill and Castle Hill Square.
The Guildhall bell is due to be chimed 800 times to mark each year since the charter's sealing.
---
What is Magna Carta?
Magna Carta outlined basic rights with the principle that no one was above the law, including the king.
It charted the right to a fair trial, and limits on taxation without representation.
It inspired a number of other documents, including the US Constitution and the Universal Declaration of Human Rights.
Only three clauses are still valid: the one guaranteeing the liberties of the English Church; the clause confirming the privileges of the City of London and other towns; and the clause that states that no free man shall be imprisoned without the lawful judgement of his equals.
The British Library has two copies of the 1215 Magna Carta.
Source: The British Library
---