Long Leys Court patient death 'concern' prompts meeting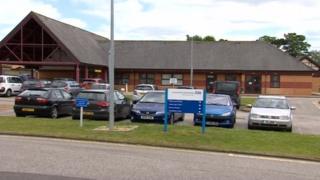 A special meeting has been called after the death of a patient from an NHS unit for adults with learning disabilities.
Long Leys Court, in Lincoln, was temporarily closed last week because of a "number of serious incidents".
On Tuesday, police confirmed they were investigating after a 69-year-old patient died.
The chairman of the county's safeguarding adults board said she was "very concerned" and had called a meeting with the police and the NHS.
'Very concerned'
Elaine Baylis, chairman of the board, will meet with the police and Lincolnshire Partnership NHS Foundation Trust (LPFT) on Friday to discuss the care of the patients who have been transferred or discharged.
"We are very concerned about these developments and will be seeking assurances from LPFT that patients can expect the highest standards of care," she said.
Nigel Meacham, a former manager at the trust who was dismissed from his post, has come forward to say that he first raised concerns about the unit six months ago.
He said an FOI request revealed that 25% of the trust's staff had been referred to the wellbeing service in a two-year period - but that nothing had been done.
"I informed the Care Quality Commission and Department of Health and Monitor that I felt there were problems within the organisation in December 2014 and that staff and patients would be at risk."
The trust said the high number of staff seeking help from its wellbeing service had contributed to a low rate of absenteeism.
Lincolnshire Police said it was investigating the death and would also look "very closely" at other incidents involving patient safety and care at Long Leys Court.
LPFT announced last week it was temporarily closing the unit which provides care for up to 16 adults with learning disabilities and other complex needs.