Tributes paid to Isle of Man helicopter crash pilot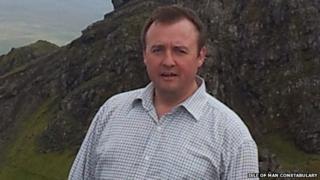 Tributes have been paid to a helicopter pilot who died after a crash on the Isle of Man during high winds.
Matthew Chapman, 48, from Louth, Lincolnshire, was the only person on board the privately-owned aircraft when it came down on Saturday.
He suffered fatal injuries when the Bell Jetranger crashed in the Baldwin Valley, shortly after dropping two passengers off.
Air accident investigators are continuing to examine the scene.
Paying tribute to the businessman, Louth estate agent Peter Mountain said: "You couldn't meet a nicer man.
"Matthew was in charge of a very successful company in Louth but, more importantly, he was very nice chap.
"I don't know of anybody who had a bad word to say about him."
He added: "Our thoughts go out to his family, his wife Mary and the children. She has a great number of friends and I'm sure they will rally round to support her through this terrible time."
People also took to social media to pay their respects, with messages of support from teams taking part in the Isle of Man TT Festival.
Andy Ballard, of the Louth-based Bimota road racing team, described it as "sad news".
Chris Birchmore wrote: "Terrible sad news, a very good neighbour, known him all his life."
Friend Steve Durant said: "My memory of him is just a very generous man.
"If the wolf was at the door he would be round and would sort things out.
"My thoughts go out to his family."
Insp Derek Flint of Isle of Man Police, said the "difficult incident" had presented "a number of challenges" as it occurred during the TT Festival and during strong winds.
Police are now working alongside investigators to establish what caused the crash and to remove the wreckage from the site.