Lincolnshire library handover 'exceptional', says shadow minister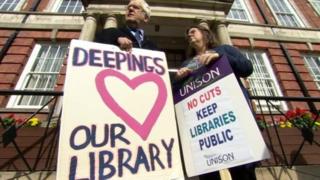 A decision by Lincolnshire County Council to hand over 30 libraries to volunteers has been called "exceptional" by Shadow Culture Minister Chris Bryant.
The Conservative-led authority has voted to hand over the libraries in a bid to save about £2m.
Labour's Mr Bryant said he did not know of anywhere in the country that had done anything quite like it.
The council said having volunteer-run libraries would secure their future.
Secure future
The council decided last week, after a lengthy legal battle, that 15 "core" libraries would remain under the authority's control.
If volunteers did not take on the others, a mobile service would be provided, Tory councillor Nick Worth, executive member for libraries, said.
He said: "The way in which libraries are used is changing, not just in Lincolnshire, but across the country, and it's important we adapt with the times."
But Mr Bryant said: "Libraries are an absolutely vital part of social economy in every part of the country and I think the kind of route that Lincolnshire has gone down... is quite exceptional.
"I don't know anywhere else in the country [that has done this]."
He said local authorities needed to ensure there was a "secure future" for libraries.
In North Yorkshire, nine of the county's 42 libraries are run by community groups but under new proposals, as many as 20 more would be community-run.
Somerset County Council is hoping to save £850,000 over the next three years with "community-supported libraries", but a bid to withdraw funding to 11 libraries was ruled to be unlawful by the High Court.
At the weekend, protesters at the Deepings Library, in Market Deeping, encouraged as many visitors as possible to use the facilities.
Organisers - who also tied yellow ribbons to railings outside the library - said the 680 who used the library on Saturday was a record.
More than 20,000 people signed petitions in protest at the council's move, which led to a High Court judge criticising the way in which the council reached its original decision.
However, a second consultation led to the authority making the same decision, which it is entitled to do, as long as due process has been followed.