Lincoln City FC owes Co-operative Bank £380k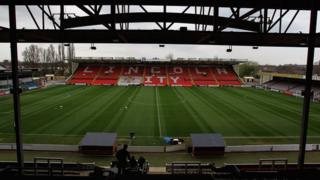 Lincoln City could be forced to sell its property assets in order to pay back £380,000 to the Co-operative Bank.
Chairman Bob Dorrian said in a letter to shareholders the bank wanted to end its relationship with the club as soon as possible.
The Conference side's managing director Kevin Cook said it would not mean selling the club's Sincil Bank stadium.
The bank said it was reviewing business accounts and helping the club find a new provider.
Mr Cook said: "We were given notice a year a go and that kept being extended.
"But the bank are turning up the heat and they want to exit as soon as possible."
He said the club would not have to sell the stadium but even selling other assets would still leave them in financial trouble.
The club said it had been unsuccessful in finding an alternative bank and has appealed to fans for help paying back the money.
The Co-operative said in a statement: "We are seeking to exit some banking relationships that do not meet our future risk appetite or have comprehensive and complex banking requirements.
"We work with affected customers to ensure a smooth transfer of their arrangements to a new provider."