Lincolnshire County Council to hand over 30 libraries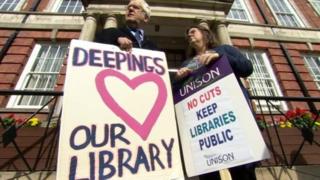 Lincolnshire County Council is set to hand over 30 libraries to volunteers, despite legal challenges and protests.
The Conservative-led authority voted unanimously in favour of the move in order to save about £2m.
Campaigners had won a High Court battle against cuts to services but after a second public consultation, the council decided to push on with its plans.
John Hough, leader of the Labour opposition, said it was a "disgraceful decision".
Tory councillor Nick Worth, executive member for libraries, said having them run by volunteers would help secure a future for the service.
He said: "The majority of communities out there say yes they want to do it because they want to keep their library going, it's very important to them."
However, Mr Hough said: "They [the council] don't seem to have a clue about what they're going to do....
"It's complete confusion, it's decimating to the communities and it's a disgraceful decision."
'Insufficient funds'
Julie Harrison from the campaign group Save Lincolnshire Libraries, said volunteers would struggle to run branches.
She said: "Eventually libraries will close because you can't get volunteers to raise sufficient funds to run them."
The idea was first mooted in 2012 with another 15 core libraries, including Lincoln, Grantham and Boston, to remain under the council's umbrella.
More than 20,000 people signed petitions in protest which led to the High Court, where a judge criticised the way in which the council reached its decision.
However, a second consultation has led to the authority making the same decision, which it is entitled to do, as long as due process has been followed.