Man jailed for murdering ex-wife in custody battle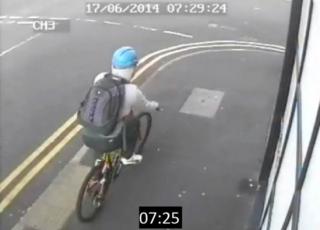 A man who "brutally" battered to death his ex-wife to get custody of their young son has been given a life sentence for murder.
Wai Hong Tsang, 33, carefully planned the killing of Mingzi Yang, travelling to her home in Lincoln by bicycle on 17 June and taking a change of clothes.
Ms Yang suffered 26 injuries, with the most serious being blunt trauma injuries to her head.
Tsang was told he must serve at least 28 years before he can be released.
On Friday a jury unanimously found him guilty of murdering her.
Lincoln Crown Court heard that Ms Yang's boyfriend spent three days in custody because police initially thought he was responsible.
Jailing Tsang, Judge Michael Heath told him: "You are a cold, calculating individual and a liar, but you did not fool the jury.
"When poor Darren Grundy, Mingzi Yang's partner and a wholly innocent man, was in police custody for three days, I have no doubt you thought you had committed murder and got away with it."
The judge said the "significant degree of planning and premeditation" were aggravating features, and the effect of the murder had been to "effectively orphan your five-year-old son".
Tsang, of Bluebell Road, Scartho, near Grimsby, worked as an industrial hygienist at an oil refinery and had no previous convictions.
The judge said he was "very intelligent", and took pains to create a false alibi.
He booked the day off work and told a colleague he was going mountain biking at Sherwood Pines in Nottinghamshire.
But he stopped off at a secluded lay-by on the edge of Lincoln, from where he cycled to his ex-wife's home in Sincil Bank.
Tsang battered her with an unknown weapon which has never been found, then cycled back to his car.
He had turned off his phone knowing police would try to trace his movements from the signal, but he was captured on CCTV.