Honour for long-serving Lincolnshire firefighter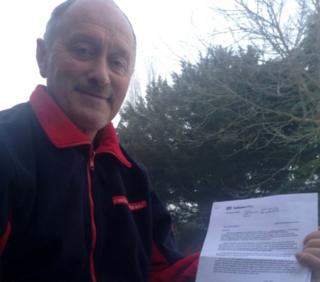 A man who has been a firefighter since before many of his colleagues were born is among people from Lincolnshire named in the New Year Honours list.
Brian Walsingham, 67, became a retained firefighter in October 1965 when he was 18, and has served for almost 50 years.
When not working as a farmer or undertaker, he does community work in his home village of Corby Glen.
He is being awarded a British Empire Medal for services to the community.
Mr Walsingham said he did not know who had put him forward but he would "get them over a barrel" when he finds out.
Earlier this year he helped save the lives of five young people who were upstairs in a house when a tumble dryer caught fire in the middle of the night.
He and his colleagues located them despite the house being filled with thick smoke.
He said it was a "surprise" to be honoured.
A married couple who have helped at a youth club for more than 65 years are also being awarded British Empire Medals.
Bert and Barbara Bonsor, aged 90 and 85, have been on the committee of Wrangle Youth Club since it formed.
The couple, from Stickford, are being recognised for services to young people in the Wrangle area.
Susan Kirk, who has helped Macmillan Cancer Support for more than 30 years, is appointed MBE for services to supporting people with cancer.
The 69-year-old, from Boston, has been a member of the charity's council since 1983 and a trustee and director since 1999.
She has been heavily involved with the charity's Boston and District volunteer fundraising committee for 39 years, spending eight years as secretary, 30 years as chairman and one year as vice-president.
The committee has raised more than £925,600 during this time.