Lincoln Eastern Bypass faces second public inquiry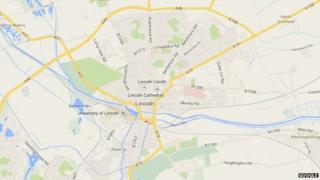 A city's bypass faces a second public inquiry amid fears it could lose government funding.
The Department for Transport is to hold a hearing into the £100m Lincoln Eastern Bypass after previously rejecting the plans.
Secretary of State Patrick McCloughlin said there was a lack of pedestrian access.
Lincolnshire County Council said it had changed its plans but fears funding could be lost if it is not built soon.
A proposed footbridge at the junction of Hawthorn Road has been moved following a consultation with parish councils.
However, the county council fears the future of the road if not agreed on soon, could be jeopardy.
Councillor Richard Davies, executive member for highways and transport, said: "Although the secretary of state has guaranteed funding for a single carriageway, we know from past experience that this will not necessarily bind a future government.
"Any alternative scheme would require a new planning application for the whole scheme and a lot of additional work. That would mean a significant delay, putting the funding at risk."
The public inquiry is expected in spring 2015.