Warning over exploited migrant workforce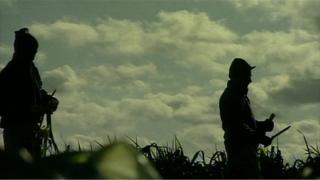 A charity has warned the exploitation of migrant workers is still an issue, after a rise in people seeking help.
Citizens Advice Bureau in Boston, Lincolnshire, said it now had 12 cases a week, twice the number a year ago.
The county, which attracts workers to its large agricultural industry, has been the focus for debates over the impact foreign labour.
Police said they had nine ongoing investigations into exploitation and the problem could quickly get worse.
Officials said the fluid nature of migrant work meant numbers were hard to estimate but in 2011 it was believed to be around 45,000 people.
Some of these fall into the hands of gangmasters who do not offer the correct pay and conditions.
Stuart Hellon, from Boston Citizens Advice Bureau, said; "The sort of things we see is the charging of extortionate fees for accommodation and transport, making people pay for payslips and withholding holiday pay.
"We are also seeing the withholding of passports, which makes it very difficult to move around and prove identities and get other work and perhaps higher paid work.
"It is very difficult in this local, low wage economy, for people who have as little as £20 a week to live on.
"Many do not seek help out of fear of being sacked or blacklisted".
Det Supt David Wood, from Lincolnshire Police, said: "There is a level of exploitation, through slavery and servitude, through sexual exploitation, labour exploitation, that because it is hidden behind doors, or it is in factories, people just don't see it but we will see more and more of this going on unless we do something about it.
"This is on the increase and unscrupulous people are exploiting weaknesses in the system in the UK and every time we find one, they move somewhere else."
The Gangmasters Licensing Authority said that while conditions had improved significantly in the fields and factories, problems which persisted were being targeted.