PCC Alan Hardwick calls for ring-fenced police funding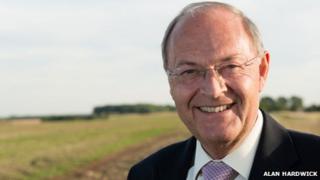 Lincolnshire Police and Crime Commissioner Alan Hardwick has said police budgets should be given the same protection as health and education.
He and Chief Constable Neil Rhodes have both warned that the force is in danger of running out of money under the current funding formula.
Mr Hardwick said it was "not fit for purpose", calling it "a one-size-fits-all approach".
Policing Minister Mike Penning said funding was already being reviewed.
The force, which covers the third-largest policing area in the country, has already saved money by outsourcing staff to G4S, restructuring itself, reducing officer numbers by 120 and collaborating more with other forces.
Under the current formula, Lincolnshire Police said it would have a funding gap of £7.6m in 2016/17, growing to £10.4m in 2017/18, meaning it would need to reduce officer numbers to an "unacceptable" level.
The force currently has 1,100 officers, 149 PCSOs and 256 police staff.
Speaking on the Sunday Politics Show, Mr Hardwick said: "The vast majority of people in Lincolnshire don't want to see their force merged with another - they don't want to see it sacrificed.
"If you can ring-fence funding for education and health, you can ring-fence funding for policing - which underpins everything else. We want the government to sit round a table, talk to us and take us seriously."
Policing Minister Mike Penning said: "The government is already conducting a fundamental review of the way funding is allocated between force areas. This work is ongoing."
Last week, Mr Hardwick wrote to Home Secretary Theresa May, urging her to take action.