Boston flood defence project gets £73m of government cash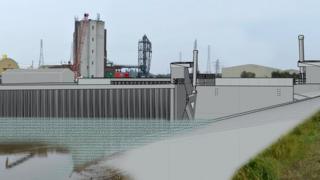 A flood defence scheme in a town devastated by a tidal surge last year will receive £73m of government funding, it has been confirmed.
Thousands of homes in Boston, Lincolnshire, were damaged when the River Haven burst its banks last December.
The defences will be built near the Black Sluice pumping station and protect up to 20,000 properties.
Schemes in Louth and Horncastle will also get government cash.
Flooding Minister Dan Rogerson said: "As we saw last year, Lincolnshire has been in the front-line for some of the more extreme weather events.
"It's important we support schemes that will better help protect people in the county."
In addition to flood protection, the Boston barrier, which Lincolnshire County Council is putting £11m towards, also aims to encourage tourism by keeping inland water levels stable during the boating season.
Described as Lincolnshire's answer to the Norfolk Broads, the Fens Waterways Link will eventually connect Boston with Lincoln, Spalding and Ely.
'Worst day of my life'
Peter Fender, from the authority, said: "At the moment, when the tide is out it [the river] is mud. When there is no water in it you can't travel. The barrier will hold back the water during daylight hours."
However, farmers on the east coast have warned that investment is also needed to protect agricultural land.
Hugh Drake, who farms near Friskney, said more than 500 acres of crops were destroyed when the sea breached defences last year.
He described it as "the worst day of my life".
"Everything that we have tried to do here over the years had gone," he said.
A public consultation on the barrier project runs until 12 December, with work expected to start in 2017.
Other major projects to be allocated cash include the Thames and Humber estuaries.