Lincolnshire pupils miss out on school meals over catering row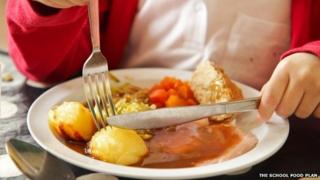 About 1,000 pupils in Lincolnshire missed out on a hot school meal after a row between council officials and a catering company.
North Kesteven and Boston district councils told Food 4 Thought GB to cease trading on Monday, claiming it was breaking the law.
They said the firm, which went into liquidation this month, should not have continued supplying meals.
However, directors said a new company was formed to take over the contract.
Eighteen primary schools in Sleaford, Boston and South Holland were affected, with some parents advised by text message on Monday evening to send packed lunches.
North Kesteven District Council's deputy leader Alan Thomas said: "As far as we are concerned this company went into administration on 4 November and they didn't contact the council to let us know they were changing their arrangements.
"We have taken advice and guidance from the Food Standards Agency (FSA) and they've stated that we shouldn't allow this to continue."
Ideal Catering Group purchased the business and assets belonging to Food 4 Thought GB earlier this year.
The firm stressed that all necessary paperwork had been completed and was in order.
'Negative action'
In a statement, the FSA said: "Any business supplying food to schools should have the necessary approval from the local authority to ensure food is safe.
"The FSA would support local authorities taking action where they have concerns about the food safety management arrangements in place, as they seem to in this case."
In a statement, Ideal Catering Group said: "The councils are suggesting that correct applications have not been made.
"We, however, can confirm these have been served with the correct departments, and have legal representatives looking to defend any negative action."
"We are confident in our business and will continue to provide the best quality meals in a safe manner."
The local authorities are now working with the firm to resolve matters, and Ideal said it hoped to resume operations this week.
In September Education Minister David Laws said it was an "important milestone" that all pupils up to the age of seven in England were now entitled to a free hot school lunch.