Boston and Skegness UKIP vote: Party urged to name candidate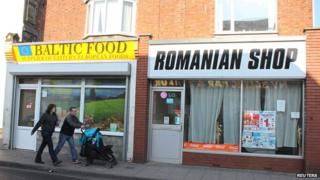 The UK Independence Party has been criticised for not naming its general election candidate for Boston and Skegness who was selected last week.
The meeting, last Thursday, came after the withdrawal from the race by UKIP's Neil Hamilton.
However, the party said it would not confirm who was selected until after the Rochester and Strood by-election.
The candidate, selected during a meeting in Wainfleet, must be ratified by the party's national executive.
'Modern world'
Matt Warman, the Conservatives' candidate for the constituency, said: "It's an absurd situation."
He said when he was selected it was a very public affair, with anyone registered to vote, irrespective of party, being given a choice of four candidates.
"That is in sharp contrast to others who will not tell you until it's been ratified by a clique of senior executives," he said.
But UKIP's East Midlands MEP Roger Helmer, defended the party's decision.
"The process consists of a hustings in the constituency and then it involves confirmation from the national executive," he said.
"[But] the national executive committee do not spend their time sitting in the same room - frankly, at the moment, they are very much focused on the Rochester by-election."
However, Mr Warman said: "I think saying this is how we do things simply isn't good enough - there are lots of things done under previous rules that simply are not relevant in the modern world.
"They should put forward their candidate so we can get on and talk about the things that matter - the NHS, rural transport and broadband - not selection matters."
Labour's candidate is former Boston mayor Paul Kenny.
He has stood in the last two elections, finishing second both times.
Analysis from political editor Tim Iredale
Boston and Skegness is one of UKIP's key target seats in the 2015 general election.
At the party's annual conference in Doncaster in September, leader Nigel Farage unveiled details of a poll giving UKIP a clear lead in the constituency.
The poll - carried out by Survation - put UKIP in first place on 46% ahead of the Conservatives in second place on 26%.
Recent election results have also been positive for the party - UKIP came top of the poll in the constituency in both the Lincolnshire County Council elections in 2013 and the European elections in 2014.
However, the Conservatives are hoping UKIP's recent success in this corner of Lincolnshire can be put down to a protest vote and voters will remain loyal to the Tories come the general election.