Low bridge in Grantham struck 15 times is reinforced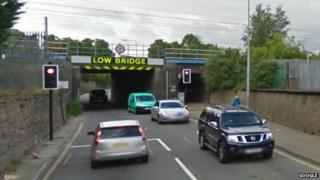 A railway bridge that has been struck 15 times in two years is being reinforced against future damage.
Impact beams are being fitted to the Springfield Road bridge in Grantham, Lincolnshire, in a bid to stop vehicles from hitting the main structure.
Justin Page, area director of Network Rail, said the move would help reduce disruption for rail and road users.
He said when collisions do occur they can be dealt with more quickly.
Mr Page added: "In the future these beams will take the brunt of any strike."
All of the major routes through Grantham pass under bridges of restricted height and there are numerous instances of lorries striking them.
The Springfield Road bridge has been named as one of the worst in the country.
However, disruption to passengers caused by bridge strikes is a nationwide problem, Network Rail said.
Last month, a Halfords 'We Fit' lorry got stuck under a bridge in London and train services across the bridge were stopped as a result of the incident.
Earlier this year, a railway bridge in West Yorkshire was closed after being hit by a skip lorry and a bridge in Edinburgh was damaged after a heavy goods lorry carrying a JCB got stuck under it.
In 2013, members of the Professional Drivers Foundation said "there was no excuse for it" after a Derbyshire bridge was hit five times in six months.
Officials in Grantham hope a new relief road planned for the town will help reduce the number of lorries having to negotiate the low bridges.
Springfield Road will be closed until the end of November while the work on the railway bridge is carried out.