Wanted Lincoln man Aaron Bee posts Facebook 'selfie'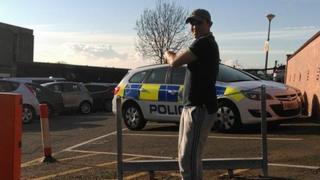 A man wanted by police over assault and domestic violence offences has taunted officers by posting a "selfie" taken outside a police station on Facebook.
Aaron Bee from Lincoln shared the photo after police identified him as wanted over two attacks in October.
The 22-year-old also posted a picture of a police officer, captioned: "Hello is it me your looking for".
Police said his social media activity was "not a laughing matter".
Mr Bee has mocked police on Facebook since his photo was released by the Lincolnshire force.
His selfie, with the incorrectly spelt hashtag #theycarntcatchme, attracted more than 300 "likes" and was shared five times.
'Utmost seriousness'
In other posts, he wrote: "Anybody have an idea on a new hiding place?" and "Anybody would think iam wanted or something lmao."
Det Ch Insp Nikki Mayo, from Lincoln CID, said: "We are aware of his activity on social media and are actively following up a number of leads and lines of enquiry, and have a number of officers searching for him.
"His most recent behaviour will not deter us from our job in any way."
She said the offences for which Mr Bee was wanted were of the "utmost seriousness".
"I would urge people to remember that the victims involved here have been deeply affected and for them this is quite simply not a laughing matter," she said.
The force has urged Mr Bee to hand himself in or for anyone who knows of his whereabouts to come forward.