Dangerous road plan: Council considers speed cameras for A18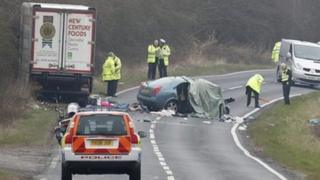 A district council is considering installing speed cameras along a stretch road where five members of the same family died in a 2013 accident.
The 9.7-mile (15.5km) stretch of the A18 in Lincolnshire has been named one of the most dangerous roads in England.
North East Lincolnshire Council provisionally allocated £40,000 for average-speed cameras, but some councillors oppose the move.
Councillor Philip Jackson said he was not sure cameras would improve safety.
RAC Foundation spokesman Philip Gom said speed cameras could reduce fatalities. He said studies indicated "overall they are effective".
Five members of the Cockburn family from Chester-le-Street, County Durham, died in a collision near Laceby in April 2013 on their way to a dance competition in Skegness.
The road was named as one of the most dangerous in England in a study by the Road Safety Foundation that covers 2010-12.
'Don't support cameras'
Mr Jackson, the Conservative councillor for Waltham, said the road "has lot of hidden dips and bends and areas where visibility is poor".
He said the road between Laceby and Ludborough "is not built to carry the level and speed of traffic it carries today".
"I don't really support average-speed cameras in principle... and I asked that this be scrutinised by the council before the money is spent.
"The idea that we can just make roads safe by reducing speed limits is a flawed idea."
Mr Jackson said he was concerned the cameras "could just increase the amount of frustration among drivers".
Mr Jackson supported a reduction of speed limits to 40mph in some areas.
Council leader Chris Shaw said the Labour-controlled council had already reduced the speed limit from 60mph to 50mph since the accident in 2013.
"We would like to upgrade the road but there isn't any money coming from the central government to actually do this," he added.