Donna Nook Nature Reserve: Hundreds of seal spotters expected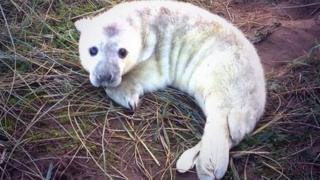 Hundreds of visitors are expected at a Lincolnshire nature reserve this weekend as some of the first seals pups of the season are born.
The seal birth rate dropped by about 15% in 2013 because of severe weather, but is expected to recover this season.
Almost 1,700 grey seals were born at the Donna Nook reserve on the Lincolnshire coast last year.
Wardens have spotted 34 pups so far this year but expect hundreds more in the next few weeks.
As many as 5,000 visitors a day flock to the reserve, run by the Lincolnshire Wildlife Trust, on busy weekends when the baby seals are being born.
The reserve was damaged by flooding during tidal surges in 2013 and 2011.
Seal colony
Large bull seals - which can weigh up to 800lbs (360kg) - arrive at Donna Nook in late October or early November and wait for the females to arrive
Cow seals arrive shortly after and are herded into harems by the bulls, where they give birth to a single pup with white fur
The young pups are suckled for three weeks during which time their weight will almost triple
Mating takes place after the pups are weaned and the seal's gestation period is about 11 months
The seals return to the North Sea in January and spend some time on sand banks off the coast
The cow seals usually return to the same area to give birth the following year
A reserve spokesman said visitors were being asked to keep away from the seals as they can be dangerous if approached.
One seal bull arrived in the reserve car park earlier this week but did not cause any damage, the spokesman said.
It returned to the sand dune area a few hours later, he added.
In 2011, about 75 pups became separated from their mothers and died during a series of high tides that hit the colony.