Lincoln Cathedral awarded £300,000 for leaky roof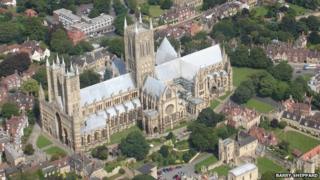 Lincoln Cathedral has been awarded £300,000 to fix a roof, which has been leaking for more than 30 years.
The money has come from an £8m government grant for repairs at 31 English cathedrals.
Lincoln's grant will be spent on repairing holes in the lead and rotten timbers in one side of the triforium roof.
Carol Heidschuster, cathedral works manager, said the work would take just under a year.
The work to the triforium, which is the aisle-level roof below the main cathedral roof, will start next month.
'Work is never-ending'
Work could not start until similar work on the south side of the cathedral had been completed, Ms Heidschuster said.
The cathedral is looking for further government funding to pay for roof repairs on the other two sides of the triforium, at the cathedral's north end.
The cathedral has to raise £1.5m a year for repairs.
Work on the 900-year-old cathedral is "never-ending", Ms Heidschuster said.
"There will always be scaffolding on our building. It's such a huge building and highly decorative.
"We have to remember the building is still used for what it was originally intended. We have five services a day - it's a place of worship but it's also a place of beauty for people to enjoy and hopefully we'll be able to do that with the funding we get."
The cathedral is launching a second bid for Heritage Lottery funding in December after its first failed. It plans to use the money to pay for new visitor attractions.