Work starts to dismantle Victorian signal box in Deeping St James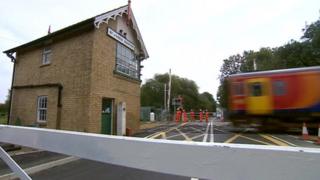 Work has started to dismantle a Victorian signal box, despite a campaign to turn it into a museum.
Network Rail is removing it to make way for an automated crossing near Deeping St James, Lincolnshire.
The work is part of a £280m scheme to modernise the line between Doncaster and Peterborough.
Villagers Stuart and Lynda Hall said: "It's an important part of our heritage, but to Network Rail it's just a box."
They said the community had won a partial victory as Network Rail had wanted to demolish the building, known locally as Jimmy's box, but had now agreed to "remove it sensitively" and store it until a new site can be found.
It was called Jimmy's box because of the sign which says St James Deeping instead of Deeping St James.
Mrs Hall said it was a "sad day".
"This is a railway community," she said.
"There were a lot of tears last night when people came to see the last train go through."
The couple said they hoped Network Rail would be true to its word to preserve it and put it back somewhere nearby.
The signal box, which has stood on The Great Northern Line since 1869, could eventually become part of a heritage centre telling the story of the people who worked there.
A Network Rail spokesman said: "As part of the upgrade of the line, the signal box will be sensitively removed as planned.
"We recognise this is an important issue for the community and we will continue to work closely with them to agree a mutually acceptable home for the box."