Lincoln Cathedral makes second funding bid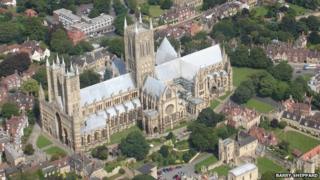 Lincoln Cathedral is launching a second bid for Heritage Lottery funding after its first failed.
The project is looking to secure funding of £13.3m in order to transform facilities at the 900-year-old building and attract more visitors.
An initial bid of £640,000 was turned down but did receive "positive feedback", officials said.
They said the main reason was that available funding had been awarded to other "priority" schemes.
Anne Irving, project manager at the cathedral, said: "There was £50m of funding available and the HLF received bids for £190m - so we knew the odds weren't great.
"And unfortunately they felt there were other projects that had priority over ours."
However, she added that after reworking some elements of the bid it would be resubmitted in December.
The Lincoln Cathedral Connected project aims to use technology to tell the story of the history, archaeology and architecture of the building, including that of the Romans who built the first defensive fort in 60AD on the site.
Officials said a new interpretation centre would also tell the stories of those with links to the cathedral, including that of Bishop Richard Flemming, who is interred in the building in a "macabre tomb". An example of how art and architecture were influenced by the Black Death.
Work could begin in 2016 if the bid is successful and take about five years to complete.
Cathedral revenues
---
It costs about £3m a year to run the cathedral, with about £1m being raised from visitors and events
In recent years, it has raised extra revenue being used as a set for films, including The Da Vinci Code and The Young Victoria
TV shows, including Antiques Roadshow and Scaling Britain, were also filmed there
A guided tour of the building costs £8 for an adult, £1 for a child
---