Lincoln High Street crossing work begins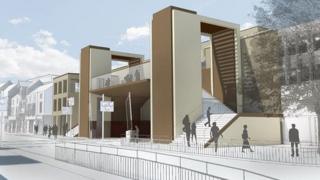 A project to put a bridge over a busy city centre level crossing has begun.
The crossing on High Street, Lincoln, had been the focus of concerns over delays, safety and economic impact.
With lifts at either end, the £6m bridge will be accessible to pedestrians, cyclists and those with mobility aids.
It is due to be completed in October next year. Work on another footbridge, at nearby Brayford Wharf, will start next year.
Phil Verster from Network Rail said: "The challenge was that there wasn't room for a footbridge here in High Street.
"So we have had to buy a neighbouring building, which will be demolished, services rerouted, then the building will be rebuilt around the bridge."
Pressure on the crossing will also be relieved by a new east-west link road - approved by the government in the summer - which will divert traffic away from the High Street.