Weston Hills pupils get bravery awards after F-15 crash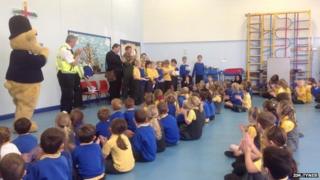 Pupils evacuated from a school after a US military plane crashed nearby have received bravery awards from police.
Smoke blew into Weston Hills Church of England Primary School near Spalding, Lincolnshire, after wreckage from the F-15D jet landed in a field about 400yds (365m) away on Wednesday.
All pupils were given certificates by Lincolnshire Police at an assembly, attended by RAF and USAF personnel.
Pupils made a "get well" card for the pilot who ejected from the aircraft.
He suffered minor injuries after baling out before the crash just before 15:30 BST.
The aircraft, based at RAF Lakenheath in Suffolk, had been on a combat training mission.
Insp Jim Tyner of Lincolnshire Police took mascot Bobby Bear into the school to present the certificates.
He said it was important to put minds at rest after an exceptional event.
"The kids were brilliant. They're very resilient and now they'll remember Bobby Bear rather than the crash," he said.
"Children just get on with it and the message was 'Don't be frightened - the police are only in the village to keep you safe'."
About 140 children attend the school in Weston Hills.
Witness Janet Prescott saw the jet come down and said it was "pure luck rather than judgement" that it did not hit houses and the school.