Mentally ill patient dived off roof of Boston Pilgrim Hospital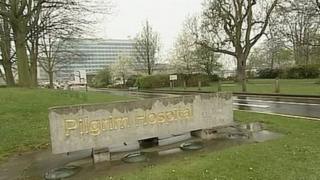 A mental health trust has been fined £20,000 after a patient dived off a hospital roof, leaving him paralysed from the chest down.
He had a history of self-harm and had climbed on to the same roof at Boston Pilgrim Hospital twice the day before.
Other mentally ill patients regularly climbed on the roof over five years, but nothing was done to resolve the problem.
Lincolnshire Partnership NHS Foundation Trust has apologised.
A spokesman for the trust said it had removed the structure that allowed the patient access to the roof and now regularly inspects the grounds.
The trust was prosecuted by the Health and Safety Executive (HSE) at Boston Magistrates' Court.
It admitted breaching the Health and Safety at Work Act 1974 and was fined £20,000 and ordered to pay costs of £6,900.
'Obvious warning signs'
The man who jumped off the roof was 26 and had been detained under the Mental Health Act.
On 8 March 2013 he was being escorted to an outside area to have a cigarette when he sprinted off and climbed on the roof.
He finished his cigarette and then dived on to the concrete floor below, suffering a broken neck and a bleed on the brain.
Now paralysed, he requires 24-hour nursing care.
HSE inspector Lyn Spooner said: "What makes this worse is that he had been on the roof twice before, but had been talked down, and there is a history going back many years of other patients gaining access to the roof.
"The trust failed to recognise the significance of this and, as a result, ignored the very obvious warning signs that demonstrated the uncontrolled risk."