Drunk man smeared blood on victims in Grantham park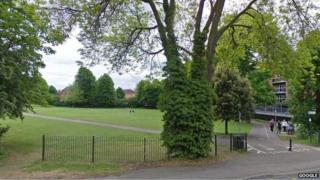 A man who drunkenly exposed himself in a park, smeared his own blood on two men and threw bottles at people has been jailed for eight months.
Merek Wrobel also exposed his bottom to a police officer while being chased, and threw a can at him.
It happened in The Paddock, Grantham, where Wrobel had been sleeping rough following the breakdown of his marriage.
Wrobel, 36, admitted five charges over the mayhem which happened on 18 May.
Judge Michael Heath said it had been "unpleasant for those who had to witness it".
Stripped to shorts
Stuart Lody, prosecuting, said it started when Wrobel "took exception" to two people who were in the park and became "threatening and abusive".
He then threw bottles at three men, and one of them threw a bottle back.
The bottle struck Wrobel on the body, causing him to bleed, so he smeared blood on his face and chest, and stripped down to his shorts.
A man asked Wrobel to put his clothes back on, the court heard, but Wrobel then exposed himself.
Mr Lody said there were women and children present, and Wrobel began shouting at the women, calling them "ugly".
The two men he smeared blood on were bystanders who were not involved in the bottle throwing.
Wrobel, of no fixed address, admitted three charges of common assault, one charge of exposure and one charge of outraging public decency.
In mitigation, Tony Stanford told the court: "He has a difficulty with alcohol and tends to binge drink which lies at the root of this offending.
"His wife leaving him led to this spiral."
The judge said there could be no alternative to a prison sentence.