Lincolnshire Road Safety Partnership clocked car at 75mph by school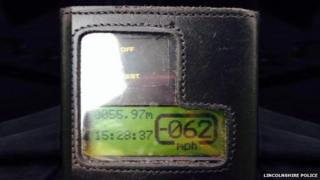 Drivers have been clocked speeding at up to 75mph in a 30mph zone past a Lincolnshire primary school.
Lincolnshire Road Safety Partnership found 73% of motorists exceeded the 30mph limit outside Marton Primary School, near Gainsborough, with a third doing more than 40mph.
A car was allegedly driven at 62mph on the stretch on Tuesday, said the partnership.
Teachers said they were worried when taking pupils out of the school.
Parents and teachers said they would like signs which flash up the speed of a car to help slow down motorists.
A survey last year found three quarters of drivers going past the school exceeded the speed limit.
Teacher Naomi Maguire said: "It has always been a safety issue whenever we walk the children to a bus - the older ones on the outside, the youngest on the inside and the adult almost like a human shield."
It has also been suggested extending the 30mph zone further along the road to stop drivers accelerating outside the school.
John Siddle, from the safety partnership, said: "If you are near the school and there's activity, you need to slow down, even if you're doing 30mph.
"An appropriate speed would be more like 20mph."