Hundreds attend Europe's largest steampunk festival in Lincoln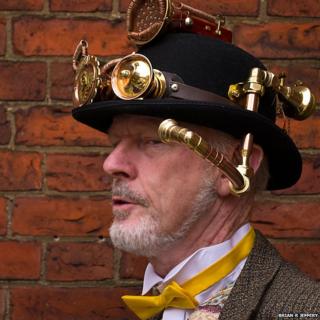 More than 2,000 people are taking part in Europe's largest steampunk event.
The annual Lincoln festival, now in its sixth year, attracts people from around the world wearing pseudo-Victorian costumes.
The event, known as The Asylum, takes over the castle grounds and surrounding historic buildings for three days.
Steampunk has been described as "nostalgia for what never was" and draws on a wide variety of influences from HG Wells to comics.
One of the main themes is to be courteous, with any disputes settled with Tea Duelling - who can keep a dunked biscuit in the tea the longest.
Other events taking place in Lincoln include Whacky Races - Victorian styled go karts - and the Mad Hatters Tea Party - in which people have to drink tea as they are asked to move around a room and introduce themselves to fellow steampunkers.
Participants also hurled "polite" abuse at each other as they met near the city's castle - they then shook hands and asked "how do you do?".
Co-founder of the event Karen Grover explained what steampunk is about.
She said: "It is many things, but if you take the Victorian aesthetic and their technology, then put it into a future setting.
"Within that we have a music scene, lots of people making their own outfits and the gadgets that go with them."
However, she said the main purpose was for people to join in and enjoy it.
"This is an event you can bring your grandmother, or five year old children along to, it's for everyone," she added.
Modern objects are also given a steampunk twist by adding clockwork or steam power.