Gibraltar Point nature reserve to get new £1m visitor centre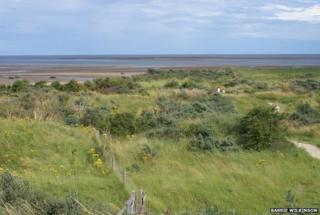 A visitor centre at a nature reserve featured in the Shipping Forecast is to be demolished and replaced after it was severely damaged by flooding.
The centre at Gibraltar Point has been closed since a storm surge hit the Lincolnshire coast in December.
Rather than spend money repairing the old centre, it will be replaced with a new £1m facility raised on stilts to protect it from future flooding.
Lincolnshire County Council has submitted a planning application.
Councillor Colin Davie, executive member for economic development, said: "If everything goes to plan, we could be welcoming the first visitors to the new site by 2016."
The council has worked on the plans with Lincolnshire Wildlife Trust, which manages the site.
The trust had to temporarily close the nature reserve, together with Donna Nook and Far Ings nature reserves, after they were all flooded.
The visitor centre at Far Ings was also damaged but this has been repaired, and the centre reopened in August.
Lincolnshire Wildlife Trust's chief executive Paul Learoyd said: "The charity has worked with the county council at Gibraltar Point for over 65 years and has witnessed many changes.
"We hope that, despite the devastating impact of the flooding, a new centre on the site will provide visitors with an attractive facility, enhancing a visit to this much-loved nature reserve."
Lincolnshire County Council is contributing £430,000, Lincolnshire Wildlife Trust is contributing £150,000, and an application is being made for £420,000 from the government's Coastal Communities Fund.
The nature reserve remains open to visitors in the meantime, and a temporary portable building will soon be put in the car park to provide visitor facilities.