Portas Pilot free parking signs ordered down in Market Rasen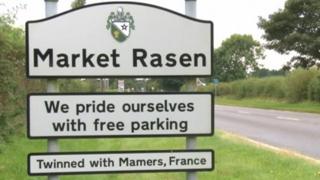 Signs erected with funds from a government scheme led by retail expert Mary Portas must be removed because they do not meet legal requirements, a council has ordered.
Market Rasen was one of 12 towns to share £1.2m from the government as part of the Portas Pilot project, which aimed to rejuvenate UK High Streets.
Some of the money was used to erect roadside signs promoting free parking.
But the county council said this meant the signs "fall foul of the law".
The authority said the road signs did not comply with national requirements - so legally they had to come down.
A spokesperson said: "This may seem trivial, but we have a legal obligation to remove them, but we'll happily work with the town council to ensure future signage is appropriate."
'A bit childish'
Town councillor Ken Bridger said he was disappointed with the decision but would now apply for suitable replacements.
"It's a bit childish - and I think the [county] council has better things to worry about such as pot holes," he added.
Sara Scott, from Market Rasen Business Improvement Group, said the roadside signs advertising free parking had helped attract more passing trade to stop in the town.
She said: "If you can't actually declare that advantage it makes it much more difficult to tempt people."
Market Rasen was awarded the money in 2012, with Mary Portas visiting the town to offer guidance.
The town's market area was also revamped as part of the scheme.