Heckington Windmill restarts flour milling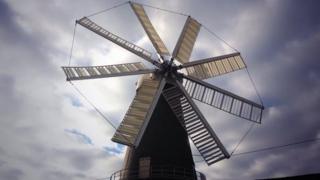 The last surviving eight-sailed windmill has begun production of flour for the first time in four years.
Heckington Windmill, near Boston in Lincolnshire, was one of only seven of its kind ever built and the only one to still work.
In 2010, the sails were discovered to be rotten and it was feared they would drop off, forcing production to stop.
In June all eight sails were taken down to be replaced in August and milling of flour began this week.
"In July 2010 we knew one of the sails was poorly," manager Jim Bailey said.
"All the sails were surveyed and it was very clear there was a major problem and of the eight sails, seven were in a really dangerous condition so we had to stop milling there and then."
The Heckington Windmill Trust, which runs the site on behalf of owners Lincolnshire County Council, has also received a grant of £1m from the Heritage Lottery Fund.
This money has been used to buy some of the surrounding buildings and discussions are ongoing about what to do with them.
For the first time this weekend it will mill barley for the neighbouring brewery which will produce the only beer brewed from windmill milled produce.
---
Potted history
The mill was originally built in 1830 by Edward Ingledew for Michael Hare as a five-sailed mill
Following a severe thunderstorm, the mill was repaired in 1892 using eight sails from a windmill in Boston
Heckington mill ceased work in 1946 and deteriorated until it was purchased by Kesteven County Council in 1953
The mill is now owned by Lincolnshire County Council, but is operated and run on a voluntary basis by Heckington Windmill Trust
---