Dambuster airfield bought by Lincolnshire Wildlife Trust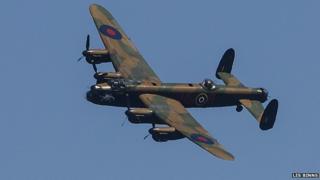 A wildlife trust has bought an airfield, once home to the 617 Dambuster Squadron during World War Two, after securing a £450,000 grant.
The Lincolnshire Wildlife Trust plans to open Woodhall Spa Airfield to the public and use the funding to conserve the habitat.
The squadron used RAF Woodhall to launch operations including the sinking of the German battleship Tirpitz.
A section of the original runway can still be seen.
The charity said the grant "marked the start of an exciting restoration programme".
Work will include the creation of a new reserve to provide a home for a variety of birds, including skylarks, linnets, yellowhammers, buzzards and kestrels.
The trust's media officer Rachel Shaw said the funding would also be used to help maintain the military history of the site.
There is currently no public access to the former base.
The airfield was where Guy Gibson started out on his fatal last mission in September 1944.
Some wartime buildings remain on the site and these will be preserved.
The project is one of six nationally which has received funding from WREN, a not-for-profit organisation that awards grants generated by landfill tax to environmental and heritage projects.
Wildlife trusts in Kent and Essex are among the other successful bidders.
A further £110,000 has been donated to the Woodhall Spa project.