Crowd welcomes Ryan Smith home after cycling accident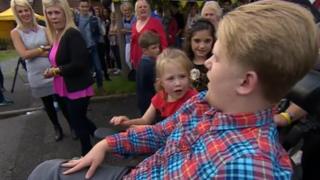 More than 100 well wishers gathered as a teenager who sustained a serious brain injury in a cycling accident over a year ago returned home.
Ryan Smith, 17, from Lincolnshire, was knocked off his bike in July 2013 and has been receiving care at a specialist centre in Surrey.
He was welcomed by friends and family when he arrived home in Chapel St Leonards at about 14:00 BST.
Ryan's stepmother Sam Jessop said she thought the day would never come.
Ms Jessop said: "To have all the family back together again is better than winning the lottery."
Ryan arrived to cheers and people shouting "we love you Ryan".
His father Mark Smith said it was "testament to his popularity".
"I didn't realise there was this many people in Chapel," he said.
Mr Smith, a paramedic, is campaigning for a law to force cyclists to wear helmets.
The teenager was not wearing a bike helmet when he collided with a van while cycling to work.
His father is also campaigning for care to be available closer to home.
The family said they had driven a total of more than 27,000 miles with their daily visits to Ryan at The Children's Trust centre in Surrey because similar care much closer was not available.
Adaptations to the family home near Skegness have been made to help the teenager.