Plea to save derelict Grantham Hospital building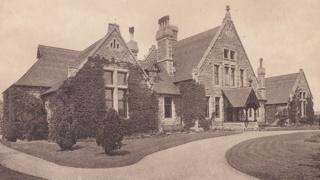 A Lincolnshire councillor is calling for the preservation of a Victorian hospital building that has fallen into disrepair over the past few years.
The original Grantham Hospital building dates back to 1874, but is no longer used by the United Lincolnshire Hospitals Trust.
County councillor Ray Wootten wants the building restored instead of being demolished and replaced by a car park.
A trust spokesman said the building was beyond repair.
'Floors rotted'
"With a building of that age eventually you have to make a decision what is the best thing to do with it and what you can afford to do with it and what is the best use of the funding resources," trust spokesman Ian Hayden said.
"It needs total rewiring, a new fire alarm system, a new hot water boiler, new cold water system, the floors have rotted through and the roof would need taking off completely and replacing," he added.
Mr Wootten, a Conservative councillor representing Grantham, said: "I think this has been a deliberate ploy to leave it to wrack and ruin so that they can eventually come and say 'it is not fit for purpose'. I think they ultimately want to knock it down."
Grantham resident Babette Hay, 94, who first went to the hospital at age 14, said: "I hate seeing all that boarded up mess.
"If it could be tidied up and made to look like it used to be - it would be so much nicer. It is a nice-looking stone building."
Mr Hayden said there were no immediate plans to demolish the building, but added: "We are aware we have to do something with the building sooner or later."