Spice Cottage in Whaplode damaged in lorry crash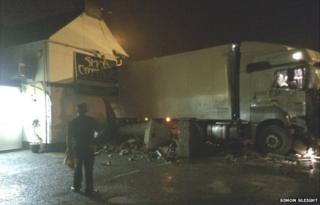 A restaurant has been extensively damaged by an articulated lorry that left a road and smashed into it.
Police said no customers at Spice Cottage were hurt and the 69-year-old driver escaped with minor injuries.
One man tweeted the damage to the restaurant in Whaplode, Lincolnshire, was "proper carnage".
High Road was closed for about seven-and-a-half hours after the crash, which happened at 21:00 BST on Monday.
'Gaping hole'
Terry Johnson, a Long Sutton resident who saw the damage, said it looked "like a bomb has hit it".
"It used to be the The Star [a pub] and where the main bar used to be is a gaping hole," he said.
"It looks really bad. It's just a good job there weren't nobody injured, because at that time of night you would have thought the restaurant would have been busy."
Manager Rumel Miah said it would take time to assess the cost of the damage.
"It is going to be closed for a long while I think, so it is going to have a big effect on our business," he said.
Restaurant worker Anwar Sadat said it was lucky the last customers had just left and staff managed to run out of the way.
He said: "I heard a screeching and saw this lorry coming towards us.
"I just ran out of the way. It was frightening really."
Workers from South Holland District Council were at the site throughout the day on Tuesday to fix a small gas leak and make the building structurally safe.
A water main was also damaged in the crash.
The circumstances of the crash are under investigation and witnesses are being asked to contact police.