Rare glossy ibis might stay at Frampton Marsh over winter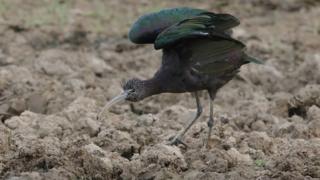 Two rare birds from southern Europe that were spotted building a nest at a nature reserve in Lincolnshire might stay over winter, the RSPB has said.
The pair of glossy ibises, who arrived in June, created a nest platform at Frampton Marsh, near Boston, but did not raise young.
The species has never bred in the UK and it is thought they flew north due to drier conditions in the south.
RSPB officer Chris Andrews said the site's wetlands could suit the birds.
Glossy ibises are a heron-like bird, with a green sheen to their coat, and usually breed in the south of France, southern Spain and in south-east Europe.
It is thought that drier conditions around the Mediterranean have pushed the birds further north in the search of more favourable nesting sites.
Mr Andrews said: "Due to the conditions [in the south] there's a pretty good chance the birds will stick with us for winter.
"A mild and wet winter here would suit it down to the ground."
The birds were seen early in the summer but their arrival was not announced until August because of fears of disturbance and the threat of illegal egg collectors.
Mr Andrews said it was a shock when he first spotted the glossy ibis fly past the visitor centre.
"I said 'that's a glossy ibis!' but no one else was looking," he said.
RSPB manager John Badley had previously said the arrival of birds could mean the beginning of a colonisation.
The glossy ibis
The glossy ibis gets its name from the iridescent sheen on its wings
These wading birds have long bills and like to feed on small invertebrates in muddy pools
Six glossy ibises were seen on the island of Eigg, one of the small islands south of Skye, in 2012
Some of the birds were also seen at the RSPB Scotland site in Mersehead near Dalbeattie in October 2010