Skegness car parks patrolled by security guards to deter travellers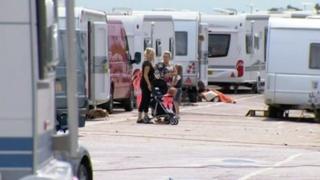 Security guards are patrolling car parks in Skegness to stop Gypsies and travellers setting up camp over the bank holiday weekend.
The council said there had been a "pattern" of travellers unlawfully occupying the Lincolnshire resort's car parks over recent bank holidays.
It said it wants to ensure spaces are kept free for tourists.
The council said there was no "formal intelligence" to support rumours a traveller wedding is due to take place.
It had been suggested the wedding was due to attract 2,000 people to Skegness.
James Gilbert, from East Lindsey District Council, said: "This weekend is absolutely critical for businesses in the town of Skegness.
"We want the businesses to do well and the security presence will hopefully ensure the car parks remain available to holidaymakers and visitors to the resort."
'Potentially racist'
Gypsies and travellers have previously said there is a shortage of temporary places for them to stay, forcing them to use car parks in Skegness.
They also claim to have been turned away from campsites.
Gypsy Damian Le Bas, who is editor of Travellers' Times, said it could potentially be a racist move for a council to prevent people from a certain ethnic background pulling onto a car park.
He said he had not heard of a council taking a pre-emptive approach like this.
"I can sympathise with the council's desire to keep car parks open for the general public, but I would also say that Gypsies and travellers are as much a part of that public as everyone else," he said.
"In the context of there being so few other places to stay I can also sympathise with travellers wanting to use those car parks on a bank holiday weekend."