Giant 'cactus' smashes through greenhouse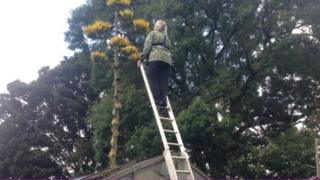 A huge plant has had an unexpected growth spurt causing it to smash through a couple's greenhouse roof.
The plant, which is between 55 and 60-years-old, now stands at more than 25ft (7.6m) in the village of Candlesby in Lincolnshire.
The Agave salmiana, of the ferox variety, has also started flowering.
It is a type of succulent but grower Mink Sumner-Wilson said a lot of people would describe it as a cactus.
She and her husband bought it from a nursery in France in about 1968 and did not expect it to flower in their lifetime.
"They call it the century plant and so, of course, we thought 100 years, we are not going to see it flower," said Mrs Sumner-Wilson.
"I know it should flower at 25ft in Mexico but I didn't expect it to do it here.
"People can actually see it from the crossroads in the village, but I don't want folk to be concentrating on that and not the road."
Mrs Sumner-Wilson said that, sadly, the plant will die after flowering.
"You have it all this time and then it pegs it," she said of the plant, which has become like a member of the family.
However, it has produced three or four "tiny baby plants" around the bottom.
Mrs Sumner-Wilson, now 70, met her husband Tim through the Lincoln Cactus Society when she was 15.
They now run a nursery, which was founded by Mrs Sumner-Wilson's father in 1947, when growing cacti and succulents was a lot more unusual.
---
Cactus or succulent?
The Agave salmiana is native to Mexico. It looks similar to a cactus but is a species of succulent plant
"All cacti are succulents but not all succulents are cacti," said Mink Sumner-Wilson
Agave nectar, a type of sweetener, is manufactured from plants including Agave salmiana
Mrs Sumner-Wilson said it is a misconception that cacti and succulents do not need watering
She said they benefit from regular watering in summer, but need six months of drought over winter