Lincoln City win against Barnet helped by jelly babies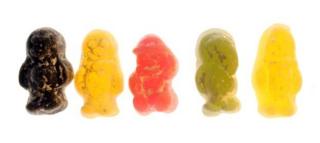 The manager of Lincoln City FC has revealed how he used jelly babies to help the team win against league leaders Barnet on Saturday.
It came after the team bus failed to turn up, leaving the players having to make their own way to London and unable to transport their tactics board.
So, boss Gary Simpson used the sweets on one of the kit lockers to demonstrate the team's formation.
He praised the players' "fantastic team spirit" in the circumstances.
He told BBC Radio Lincolnshire he would not rule out using jelly babies in future.
"If we can keep winning I will do whatever is necessary," he said.
Striker Ben Tomlinson took a photo behind the manager's shoulder and tweeted "Funny tactics board".
The idea has already been copied by young players from Lincoln City FC Youth Academy, as shown in a photo tweeted by coach Matthew Petch.
Lincoln City FC is looking into why the team bus did not turn up.
"We turned up in drips and drabs a little bit, but we all got down," said Mr Simpson.
"It wasn't the best situation to be in, especially when you are going to the league leaders that haven't conceded a goal, and had got off to an absolutely unbelievable start."
He said the team often has jelly babies ahead of matches, but players usually eat them instead of using them as a substitute tactics board.