Flooding continues across Lincolnshire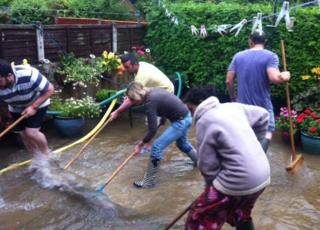 People living in Lincolnshire have been hit by continued flooding caused by the remnants of ex-hurricane Bertha crossing the county.
Events along the Lincolnshire coast, including the Skegness Carnival parade, were cancelled on Sunday because of high winds and heavy rain.
Firefighters helped with flooding in areas including Skegness, Gainsborough and Louth at the weekend and on Friday.
The Met Office said the worst weather has now passed.
Margaret Taylor, who is in charge of Skegness Carnival, said cancelling the parade was a "dreadful decision" to have to make.
"It was pouring with rain, it was blowing a gale and it wasn't getting any better and so we had to make the dreadful decision to postpone or cancel the parade," she said.
"We assessed the situation and it was just not safe to carry on."
The parade has been rearranged for Sunday, after the council allowed the road closures to be moved back a week.
Flooding forced the evacuation of some homes in Lincolnshire and made roads impassable.
In neighbouring Cambridgeshire, drivers were trapped in cars when flash flooding hit parts of the county.
Anglian Water began a scheme last week to protect homes in Louth from flooding, by installing larger sewers and a new storm overflow.
The work will continue until spring 2015.