Security firm to 'spy' on Huttoft overnight campers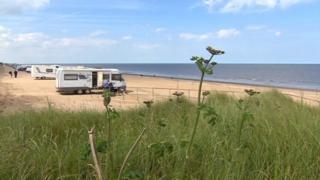 A private security firm is being used to gather evidence against motorhome owners using a car park on the Lincolnshire coast as a free campsite.
Lincolnshire County Council said there had been a long-standing issue of people staying overnight at Huttoft, between Mablethorpe and Skegness.
The authority has put up barriers and introduced a by-law to try to prevent people staying at the site.
But campaigners said they were being victimised by the council.
The county council previously said it planned to issue summonses and pursue a maximum fine of £500 through the courts.
Steve Willis, from the authority, said it had started the process of identifying offenders but could not confirm if any summonses had been issued.
He said: "We are employing a security firm who can gather evidence - which at some stage could be used in court."
"We have no problem with people coming for the day, but we want to restrict overnight parking."
He said the council would go as far as seizing vehicles which flouted the law.
However, campaigner Andy Strangeway said the wrong type of by-law was in place and the campers were doing nothing wrong.
He said the real issue was litter and money spent on barriers could have been used to keep the site clean.
Mr Strangeway accused the council of making "fantastic statements".
"Not one summons from the council has been received and I've offered to park in Huttoft at any time so they can issue a ticket and take me to court.
"They will never achieve a successful conviction."