UK bound Lancaster Vera takes off from Canada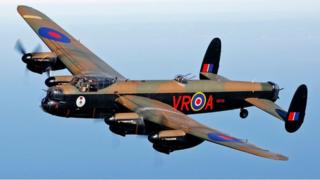 A Lancaster bomber that was grounded as it prepared to fly from Canada to take part in a tour of the British Isles has taken off.
The aircraft from the Canadian Warplane Heritage Museum was due to take off on Monday, but was grounded after an engine failed to fire.
It is due to display with PA 474, the only other airworthy Lancaster, as part of a "special salute" to all the veterans of Bomber Command.
It took off at 15:30 BST.
The Battle of Britain Memorial Flight, based at RAF Coningsby in Lincolnshire, will host the Canadian Lancaster, with both aircraft due to take part in a series of events during August and September.
Vera, so-called because of her registration VR-A, is still expected to arrive in England on 8 August after stopping en-route in Greenland and Iceland.
Staff from the museum said they had towed the aircraft to the runway because of the amount of fuel on board and "flooded" number two engine, which failed to fire.
Engineers worked overnight to fix the problem.
The Lancaster is most famous as the aircraft involved in the Dambuster raids, which saw 19 Lancasters attack German dams with Sir Barnes Wallis's "bouncing bombs" in 1943.
A total of 55,573 airmen of Bomber Command died in WWII. Their average age was 22.