Fire-hit Skegness leisure complex to become The Sky Pier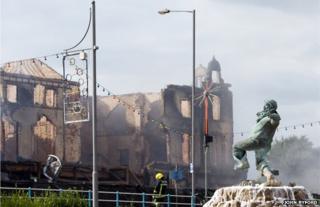 Work has started to rebuild part of a leisure complex in Skegness seven years after it was destroyed by a major fire.
The Parade complex, originally called Frederica Terrace, was the first set of buildings on the Skegness seafront when completed in 1879.
It had many uses over the years, including as a grand hotel, but the complex was a popular nightspot by the time it burnt down in August 2007.
The new development will be called The Sky Pier.
Planning permission has been granted to build a four-storey building, which will include bars with dance floors, an ice rink, roller disco area and internet cafe.
Martin Brown, who represents the owners, said the development had "taken some time" due to economic factors.
"At the end of 2007 when we lost the building, you are out of the season, you've then got insurance issues to deal with, and then you've got the economic factors that have prevailed since 2007 and 2008," he said.
"There's over £10m being committed to this development, and to put that money together and then actually devise a development that's going to give a return on that does take a bit of thinking about, [it] does take a bit of time."
The complex had two sets of owners, and the parts owned by the other owners have already been rebuilt.
Skegness residents have complained for years that the remaining parts have not been replaced.
Skegness mayor George Saxon said: "It may have took a long time but it's here.
"It looks good now, it looks as if we are going to get some results and the first two floors finished just before the season starts next year.
"Anything that's happening now on the seafront or in Skegness is good news."
John Byford, a photographer from Skegness, captured the fire and its aftermath.
"People were totally devastated," he said.
"Whether you went there or not you still had a connection somehow.
"We have been waiting a long time."