Doddington Hall toasts folly tradition with pyramid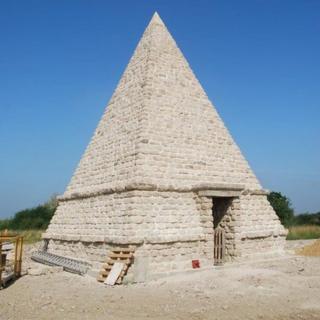 A folly in the shape of a pyramid has been built in the grounds of an Elizabethan mansion in Lincolnshire.
The tradition of building follies was popular in the 18th Century, but the pyramid at Doddington Hall has been described as "a true 21st Century folly".
It has a built-in shelter for walkers, an owl roost and a bat chamber.
Its completion has been timed to coincide with a sculpture exhibition, that is open until 7 September.
The folly was designed by retired architect Antony Jarvis, who passed Doddington Hall to his daughter Claire and her husband James Birch in 2007.
Mr Birch said: "It has been several years in the planning and we are thrilled it is finally ready for everyone to enjoy whether they want to see it from the gardens, from the top floor Long Gallery windows or up close from the ground via our nature trails."
The pyramid has been designed so it can be seen from the rear of the house, drawing the eye along the symmetry of the gardens.
Mr Jarvis also designed the Temple of the Winds, a small folly in the shape of a temple, built at Doddington in memory of his parents.