Lincolnshire WWII Lancaster Bomber crew plaque unveiled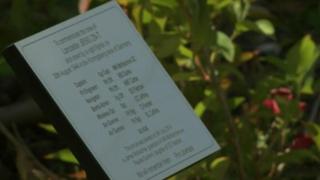 A memorial plaque to remember the crew of a World War Two Lancaster Bomber has been unveiled in Lincolnshire.
All seven crew members on board Lancaster JB593 ZN-T died after it was shot down in the Konigsberg area of Germany on 30 August 1944.
A tree was also planted in their memory at an airfield visitor centre in Metheringham, where the war plane took off from 70 years ago.
Families of two of the crew members travelled from Canada for the ceremony.
The memorial tree was planted by James McKechnie, grandson of Gp Capt William McKechnie, and Pauline Dumbrill, daughter of Flying Officer Eric Fletcher, at Metheringham Airfield Visitor Centre.
Mr McKechnie said: "It was a fantastic opportunity to visit where my grandfather took off on his last flight during the war.
"I want to understand what my grandfather went through, his history and where he was based."
Gp Capt McKechnie was appointed Officer Commanding at the newly opened RAF Metheringham in 1943.
Although not required to do so, he frequently flew with 106 Squadron and paid the ultimate price, along with the men in his charge, including Flying Officer Eric Fletcher.
Ms Dumbrill said of her father: "It sends goose pimples down my spine.
"I was very young when he died so I have really no memory of him but to be able to gather with people who understand what his life was like means a great deal to me."
Other crew members were: Sgt RB Clarke, Flt Sgt HWT Carter, Sgt CC Jeffrey, Sgt D Forster and Flt Sg EL Collins.
After the Second World War, Konigsberg became part of Russia and was renamed Kaliningrad.