Iraq hostage Peter Moore 'surprised' by Asaib Ahl al-Haq apology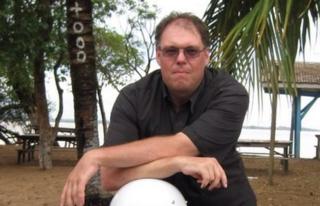 A British IT expert held hostage in Iraq for two-and-a-half years was "surprised" to hear the group that kidnapped him has apologised.
Peter Moore said the Shia group Asaib Ahl al-Haq is now "very different" to when it captured him in May 2007.
He was freed in December 2009 but his captors killed his four British bodyguards.
Mr Moore, from Lincoln, believes the group now wants to "come across as this political party that's legitimate".
He told BBC Radio Lincolnshire: "I think you've got to understand Iraq and the group Asaib Ahl al-Haq was very different way back in 2007.
"They were fighting what they saw as a foreign military occupation, [by] America, the West and Britain.
"Obviously they want to come across as this political party that's legitimate, that can be spoken to, that can do deals.
"Particularly with the invasion of Isil [also known as Isis], I mean basically they've pretty much taken over half of Iraq, so someone's got to fight them."
Sheik Qais al-Khazali, leader of Asaib Ahl al-Haq, told the BBC's Middle East editor Jeremy Bowen the deaths could have been avoided if the British government had been "fast enough".
He claimed the British government "concentrated only on Peter Moore", while "the bodyguards were second-class citizens".
In response, Mr Moore said: "It's an interesting statement. I've always said the Foreign Office could have done nothing.
"We were not working for the government, we were not military, so they didn't have to do anything, so the fact they did something is very good.
"Obviously it's not their fault that they died, that's for sure. They possibly could have negotiated things earlier, maybe, maybe not. The ground was very different back then."
A Foreign Office spokesperson said that "all kidnaps of British nationals are taken extremely seriously".
Mr Moore was eventually released in an apparent exchange for prisoners, including Qais al-Khazali himself.
He said he did not know if he had been treated differently from the bodyguards, as he was separated from them and "wasn't really sure what was going on".
"Possibly later on in 2009, once it was known the guards had been killed, then maybe there might have been more emphasis on trying to get me out alive," he said.
"But certainly in the first year at least there was no feeling that I was being treated differently or negotiated differently or anything like that."
Mr Moore currently works in Guyana, South America.
In February he received an email offering him a job in the Iraqi Ministry of Finance, from someone who did not realise he was taken hostage while working there.
In response, he emailed a link to a BBC News story about his release and wrote: "I am in no hurry to return back there."