RAF Waddington air show sells out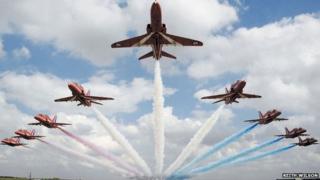 Tickets for this year's RAF Waddington International Air Show have sold out, organisers have said.
The 20th event, which got under way on Saturday at the RAF base near Lincoln, will see more than 150,000 people attend over the weekend.
Highlights include a display by the Lincolnshire-based Red Arrows and a Spitfire flying with a Typhoon.
It was announced on Thursday that next year's show would be cancelled due to a £35m rebuild of the runway.
The Ministry of Defence said the investment would extend the operational life of the RAF Waddington runway by a further 25 years.
D-Day celebrations
More than 160 aircraft will feature during the two-day event.
Air show director Paul Sall said: "People will have the opportunity not only to see the fantastic flying displays, but also the many exhibits on the ground.
"We are celebrating the D-Day celebrations this year and there are number of flypasts with markings of that era."
All proceeds from the event will be donated to RAF and local charities.