RAF Waddington air show in 2015 axed due to runway rebuild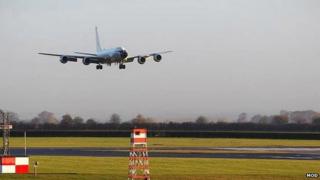 Next year's Waddington International Air Show has been cancelled due to a £35m rebuild of the runway.
The Ministry of Defence (MoD) said the investment would extend the runway's operational life by a further 25 years.
Work is due to start later this year and is expected to last for about 59 weeks. Some improvements will also be made to facilities on the site.
More than 140,000 people are expected at this year's event, which takes place at the weekend.
Wing Cdr Jim Beldon said: "Regrettably, because of the extensive work needed to the runway, it simply won't be possible to hold the air show here in 2015."
He added: "As people may know, the runway at RAF Waddington was principally built in the run up to World War Two and some of the substructure has suffered the effects of time.
"We are disappointed, but we are focusing on this one and making it the best show we've ever had."
Highlights of the 2014 show include a display by the Lincolnshire-based Red Arrows and a Spitfire flying in formation with a Typhoon - both wearing D-Day invasion markings.
RAF Waddington uses a range of airborne intelligence systems, including the Boeing Rivet Joint intelligence aircraft, which is due to enter service later this year.
The station is now home to 13 Squadron which flies the Reaper - the only UK drone that is armed. It can carry Hellfire missiles or 500lb bombs.
Last year, two priests were among six people found guilty of criminal damage during a protest about drones being operated from the base.