Anglian Water's Hall water treatment works opens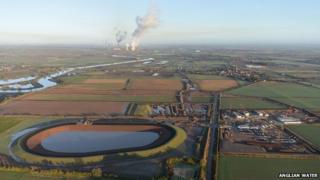 A multi-million pound reservoir and water treatment works has opened in Lincolnshire.
Anglian Water's 20 acre reservoir was opened on Wednesday and will supply homes and businesses in Lincoln with up to 20 million litres of water a day, drawn from the River Trent.
The reservoir, near Newton-on-Trent, took two years to complete and cost about £44m to construct.
It is the size of 11 football pitches and holds 300 million litres of water.
Peter Simpson, chief executive of Anglian Water, said: "Between now and the end of the decade, Lincolnshire is expected to continue to grow at a faster rate than the national average.
"Investments like this should give people confidence that Lincolnshire will remain an attractive place in which to live and do business for many years to come."
He added the firm was investing £327m in the county's water infrastructure between 2010 and 2015.