Future of Lion Theatre in Horncastle 'in limbo'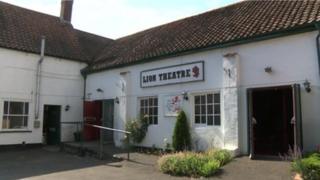 A theatre in the back of a Lincolnshire pub faces an uncertain future after the landlords moved out.
Horncastle's Lion Theatre has been operating in the Red Lion Hotel for almost 30 years.
But last week the owner, RBNB, boarded up the building after no buyer could be found, prompting fears the theatre company would have to move out.
Shirley Moffat, from Horncastle Theatre Company, said the group's future had been left "in a bit of limbo".
"For 27 years we've been intimately linked with the Red Lion," she said.
"That has gone through various changes of fortunes.
"Unfortunately for the last year it's been up for sale and they've not been able to find a buyer."
Ms Moffat added that the owners had restored electricity and would not board up the theatre.
But its long-term future relied on finding a buyer for the building.
The group's production of The Rise and Fall of Little Voice will still go ahead on 16 July.
A campaign group has been formed on Facebook in a bid to raise the profile of the theatre and help save it.
RBNB declined to comment.